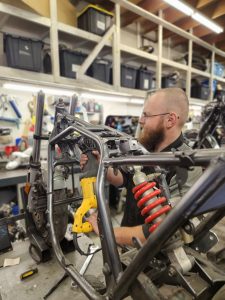 Better known as "Shirley", Thomas is the 3rd year Motorcycle Mechanic apprentice here at Old Motorcycle Shop and part-time resident. If he's not at the shop – which is a rare occurrence – he's usually spending time at motorcycle swap meets for OMS and occasionally visiting family.
If you've had your bike picked up by the shop or been by after hours, it was probably Shirley working tirelessly to improve customer experiences!
Outside of work hours you'll probably find him building his custom Triumph chopper, working on customer motorcycles or doing a bit of landscaping. With his continuous commitment to see the shop flourish, he has become an integral part of the OMS family and a great example of the ongoing passion the younger generation has for this industry!