Used Parts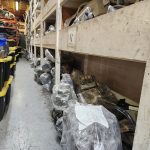 Over the years we have acquired many motorcycle parts for all makes and models. Parts come from previous projects, restorations, stripped bikes and even customer donations. We are not a "Wrecker" or a "Salvage Yard" but we are the closest thing to them. For your convenience we now list all our used parts on our eBay store. 
All of our parts are located in our shop so local pick-up is an easy option for Calgarians or those in the surrounding area.  
However, if you can't make it to our shop, don't worry… We ship world-wide! 
Our parts are being updated daily –  parts are being added by the minute to keep up with customer demand. If it's shown on our eBay, it's here in shop!
New Parts and Accessories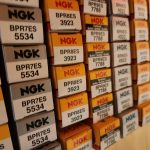 If you are looking for new parts our parts department is happy to find you NOS, OEM, Replica or Aftermarket parts to satisfy your needs. Be it from tank badges to heated grips we can help you restore your project back to (almost) new. 
Looking for brand new jackets, helmets, etc. ? We're able to get it for you. Though we don't keep much apparel and merchandise in-person, we are happy to order some in for you.